10dec7:06 pm7:06 pmA Walk in Time- Abundant Art Gallery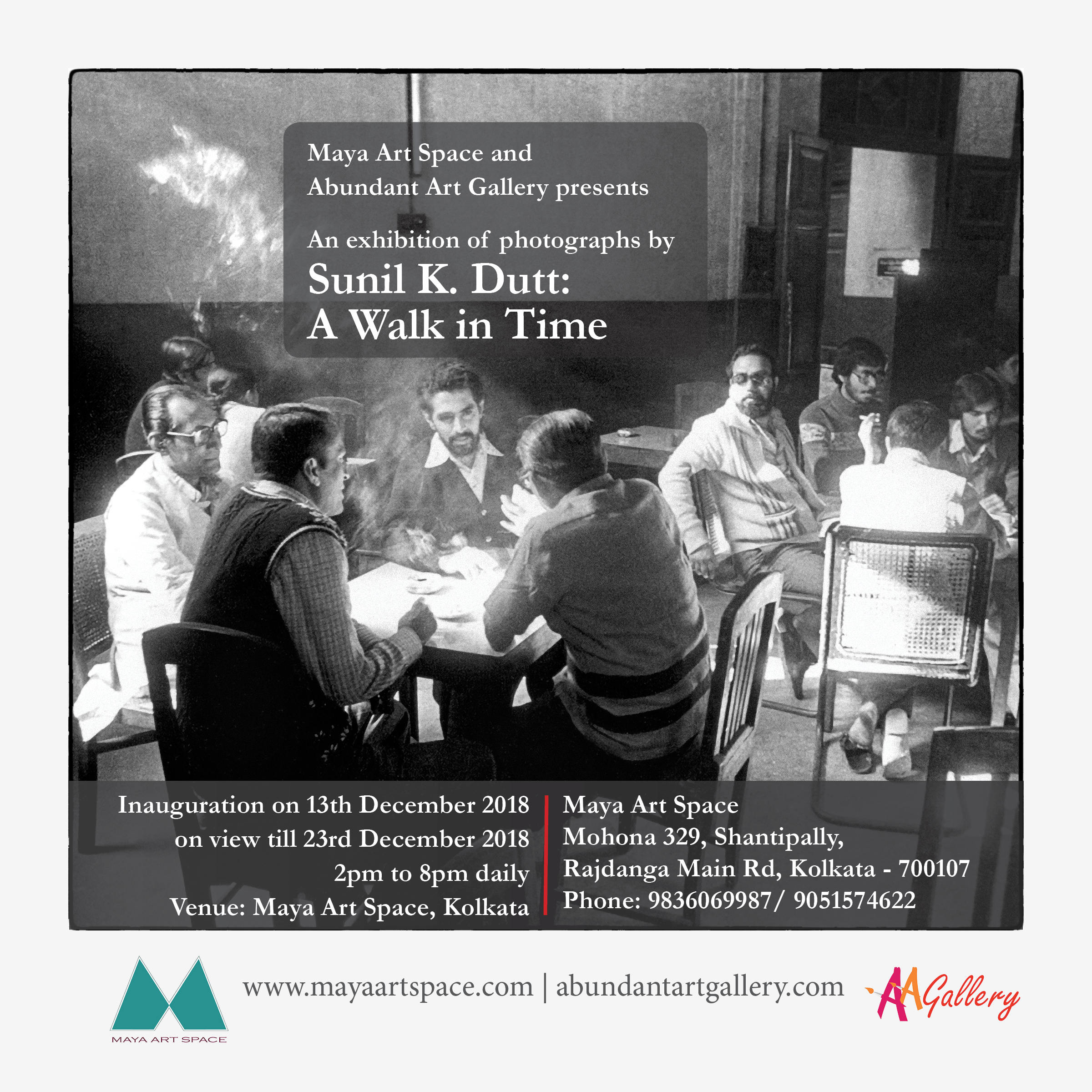 Event Details

Abundant Art Gallery is proud to present "A Walk in time" – a collection of works by one our empanelled artists- internationally acclaimed Kolkata based photographer Sunil k Dutt. The exhibition will be hosted by our partner and leading Kolkata based gallery – Maya Art Space from Dec 13-23.  Made possible by our collaboration with DNV industries this exhibition is as much a tribute to Mr Dutt as it is to the beautiful city of Kolkata.

In its 330 years of existence, Kolkata has been known for its rich colonial history and architecture, its laid-back culture and the resilience and easy optimism of its people. The City of Joy with all its faded charm and lazy elegance has always been a fascinating subject for lovers of history and tradition. For decades, many people have tried to capture in frames this city's old-world charm, with its decadence, tradition, splendour and glory. Ace photographer Sunil K Dutt stands as an exception among all of them. Best-known for chronicling Mother Teresa's life and death, 78-year-old Dutt has captured the whims and fancies of Kolkata like no one else and is acclaimed for his vignettes of life in the city. Sunil Dutt has been an encouraging and inspiring personality for admirers of art and photography for many years now. "I had always wanted to hold a compact exhibition of his work on Kolkata and Mother Teresa for a while, and therefore, we decided to organise it as a tribute to him," says the owner of Maya Art Space, Madhuchhanda Sen. With his creative eye, Dutt has captured the romance of the beautiful colonial architecture, and its crumbling streets that speak of the faded glamour of British India's capital city till 1911, known then as Calcutta. His photographs explore the charming characters of Kolkata's many streets, by lanes, alleys, tea stalls and street corners that lend the city its unique character. Curated by up-and-coming photographer Bivas Bhattacharjee, this exhibition will showcase 35 images from Dutt's oeuvre of more than 25,000 works, spanning several decades. The exhibition is the first in several years to exclusively present Dutt's perspectives on Kolkata and Mother Teresa. In fact, this will be the first of a series of international shows of Dutt's work, set to be held in London, Italy, France and other European countries. Notably, the photographs are all in monochrome. Dutt explains, "I prefer shooting in black and white, as it is challenging. In just simple light and shade, you must bring out the entire range of colours, tones and textures."

Abundant Art Gallery is an online art gallery based in London curating Indian contemporary painting, sculpture, print making and photography. Its portfolio includes a cross section of styles including the Bengal school, Kalighat scroll painting influenced folk art, photorealism as well as more modern abstract work in a range of mediums like oil on canvas, acrylic and ink on paper, print media, bronze and mix media sculptures.

The gallery's artists mostly belong to an artist's guild based in India called CONTRIVANCE, established in 1979. Through this collaboration Abundant Art Gallery aims to provide artists a global platform. Its portfolio of work is commissioned through art camps where talented artists create their unique pieces of artworks. The collection of art work is available for viewing and purchase on www.abundantartgallery.com

 Maya Art Space is a nationally reputed art and performance arena in Kolkata. Under the mentorship of Madhuchhanda Sen, this gallery is in vogue for the past 6 years and has been hosting nationally reputed artists and performers from across the spectrum. Maya Art Space is passionately committed to nurture and support the lesser and unknown talents in the field of various art forms together with exhibiting and collaborating with the master's who have helped in the construction of our rich and invigorating cultural, social and national identities.
Time

(Monday) 7:06 pm - 7:06 pm